Posts in category 'Uncategorized'
Sabemos que si eres líder empresarial o gerente necesitas contar con una herramienta que sea capaz de ayudarte a mantener un orden de las tareas y áreas especificas. La recomendación que te damos es Bitrix24, una aplicación que te deja administrar las tareas de tu equipo laboral y  que también te permite compartir archivos y obtener información.
Bitrix24¬†se autodenomina como 'Äúuna suite completa de herramientas de colaboraci√≥n social, de comunicaci√≥n y de gesti√≥n para su equipo'ÄĚ. En concreto, se trata de un conjunto de herramientas integradas que servir√°n para gestionar nuestra empresa de forma conjunta y colaborativa, aunando en un solo lugar una¬†intranet corporativa, una red social,¬†un gestor de tareas y proyectos,¬†gesti√≥n documental,¬†un servicio de almacenamiento en la nube,¬†calendario integrado con el gestor de tareas,¬†un completo servicio de correo electr√≥nico,¬†chat y videollamada.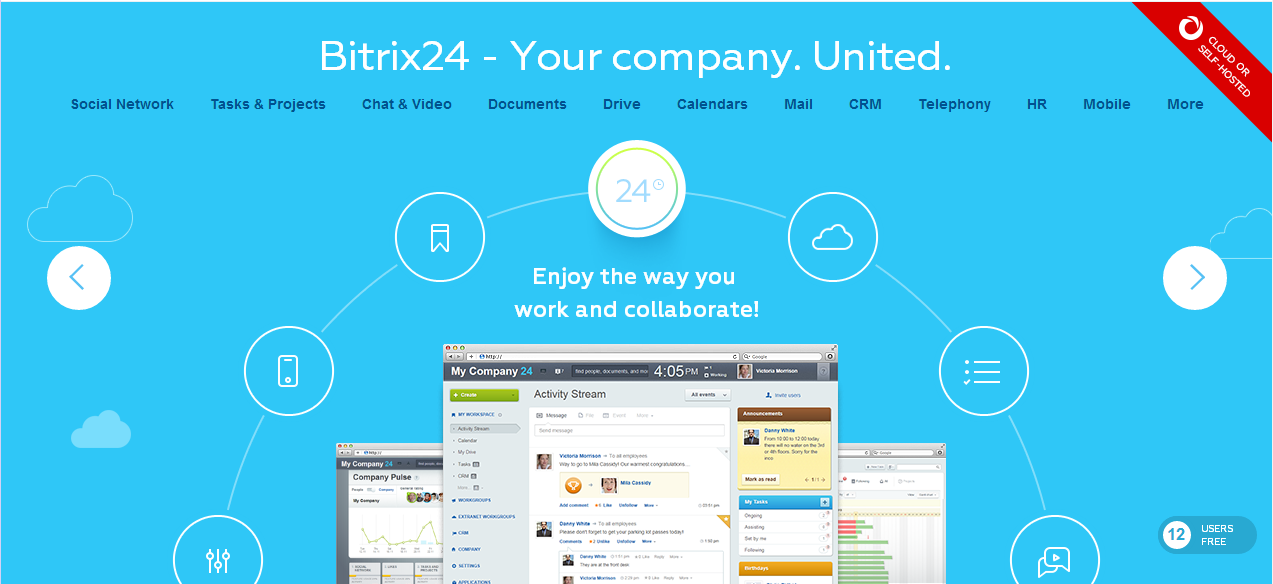 Existe una opción gratuita y la de paga. Su versión gratuita cuenta con un límite de 12 personas participando en la intranet (que pueden ser de nuestra organización o clientes que invitemos) y con 5 GB de almacenamiento en la nube. Asimismo, dispone aplicación móvil para Android y Apple y desktop para Windows. Además se integra perfectamente con nuestro dominio y nos permitirá tener nuestras cuentas de mail de la organización vinculadas con el sistema. Asimismo, cuenta con un sistema de telefonía para llamar a cualquier teléfono móvil o fijo, a nivel nacional o internacional a unos costes realmente ajustados.
Para organizaciones más complejas cuenta con varios planes en los que sin duda destaca su versión self-hosted, eliminando así los posibles inconvenientes de almacenar nuestra información en la red a unos precios, que dado, las funciones que ofrecen no son elevados si los comparamos con otras sistemas.
Para usar bitrix24 Solo tiene tienes que registrar una cuenta con este servicio y así podrás crear un espacio de trabajo personal. Por ejemplo cada área de trabajo cuenta con su propia URL dentro de la aplicación web.
Bitrix24 - Gratis (12 users/5 GB)
Via -  http://todocell.mx/noticias/bitrix24-la-aplicacion-que-administra-las-tares-de-todo-tu-equipo/
PickyDomains - World's first risk free naming service 

Plans are useful maps to follow in pursuit of a goal. But plans are never perfect, and these five common mistakes could turn the greatest plan into a disaster. Check them out so you'll know what not to do next time you're creating a plan. 




Pitfall 1: Planning Too Soon 
Plans are tied to opportunity and action; the timing matters. If you plan too soon, you'll end up forecasting trends without up-to-date information. When you do get the data you need, you'll have to remake your plan. Who wants to do the same planning twice? 

Avoid this pitfall by first making a list of the information or resources you need in order to do your planning accurately. Don't start planning until you have what you need. 

Pitfall 2: Planning Too Late 
Some possibilities require quick action; if you wait too long to make a plan, you can miss out. Planning too late or strategizing for too long might cost you the opportunity, and your plan will simply become a memoir of what-might-have-been. 

To avoid this pitfall, set a basic protocol to follow for immediate-action possibilities. For example, establish an acceptable threshold for risk, set your priorities by order, and create a basic template to use when opportunity knocks. If a possibility meets your basic criteria, you can go ahead and grab it, filling in the blanks of your planning template as you move forward. 

Pitfall 3: Planning Without a Clear Purpose 
Before you can plan well, you need to know why you're planning. Without a defined purpose, you won't be able to determine what fits into the plan and what doesn't. If you're working on a marketing plan, for example, you need to know if the purpose is to generate more leads, more sales, more exposure, or more engagement with current customers. 

The more specific the purpose, the more you can customize the plan for the purpose, which makes it more likely that your plan will be successful. 
Avoid planning without purpose by making a clearly defined purpose the first requirement of every plan, every time. 

Pitfall 4: Planning Too Much 
A good plan includes a clear purpose as well as behavior guidelines and the steps needed to accomplish the purpose. It might also include estimated timeframes, needed resources, expenses, and potential obstacles. Too little information makes a plan pointless; too much detail makes it burdensome. The key to a functional plan is to include enough information, and then stop. 

Remember that a plan gives you a starting point, but it can't predict the entire journey. It's a map, not a crystal ball. As you use the plan, you'll need to adjust when you encounter the unexpected (which you should expect). The more detailed a plan, the less flexible it becomes. Try to build a plan that gives you enough information to see the general lay-out of the road, but not so much that you're counting mile markers and planning pit stop purchases before you ever start the engine. 

Pitfall 5: Planning with the Wrong Information 
Beware the trifecta of bad information that can plague planners: assumptions, anecdotes, and bad research. Assumptions are insidious little things that can blind you to the most obvious and important questions: Is there actually a demand for this product? Is this design really feasible? Do I really want to reach this goal? Does this project actually benefit the business? 

When it comes to anecdotes, remember this basic rule: anecdotal evidence is not evidence at all. Do actual research to get real evidence. And make sure that the research you do gets you the right data. Irrelevant data may be accurate, but it's not helpful. Your target market may enjoy dining out; but if they're also health-conscious retirees on a limited income, your upscale gourmet burger restaurant will fail. Make sure that your research connects directly with your defined purpose in order to get the information you really need. 

Bitrix24 is Free Unified Communications Software. Use promocode TIP10 when registering your free Bitrix24 account to get extra 10GB. 

See also:
Free Flowdock alternative
Free HipChat alternative
Free Lync alternative
Free Slack alternative
Free Twoodo alternative
Free Appian alternative
Free Bizagi alternative
Free KissFlow alternative
Free Nintex alternative
Free VisionFlow alternative
PickyDomains - World's first risk free naming service 

Email offers a lot of benefits. It's quick, accessible, and can save a lot of time that would be spent on back-and-forth phone calls or in-person meetings. The problem is that email is overused and misused; the resulting email overload can quickly eliminate all the time saved and cause productivity to plummet. 



To benefit from email and keep it from becoming a burden, follow these six principles. 

Always Filter 
Not all email needs a response, or even a glance; if it's all flooding into your inbox, however, you have to view, decide, and act on every single email, even if that action is just to delete or archive the message. Use filters to set concrete limits on what even makes it into your inbox. For reference-only emails, such as bank statements, set up filters to send the emails to an appropriate folder. For those emails you don't want but can't avoid, like Aunt Judy's weekly upd ate and your boss's endless CCs, se t up a filter and a folder. 

Reduce the Inflow 
Unsubscribing takes a moment or two and can clear a lot of unnecessary clutter from your email life. Use a tool such as unroll.me to make it even simpler. There's no need for you to keep sorting through the digital equivalent of junk mail. Say no to email notifications from apps and social media; you're going to check in on your social accounts anyway. There's no point in receiving an email about it, too. 

Organize Your Email 
Some people prefer a complex system of labels, hierarchical folders, and infinite categorization. Others prefer a simple system that sorts email into the most basic possible groups (such as Needs Action, Needs Reply, and Archived). It doesn't matter what kind of organization you use. Just figure out which kind you like (complex or simple), implement it, and use it. Navigating and keeping up with email becomes much simpler when you use an organization model that makes sense to you. 

Reduce the Outflow 
Quit responding to emails you get that you don't actually need. Fight the impulse to send a one-line response ("Thanks for the info" or "Got it" ). When you respond, you're telling the sender that you approve the email, and want more. Is that what you want to say? 
Start to notice repeat offenders: there are just some folks who continually send useless emails. Take a few minutes to respond to the latest one with a kind but clear message: "Thanks for your thoughfulness, but this is information I don't really need. Would you please remove me from your sender list? Thank you!" For the ones who still don't get it, use a filter. 

Handle Your Inbox 
To zero or not to zero; that is the question of the inbox. 
Some people swear by inbox zero; they like to clean it out daily or weekly. Others 
see no need to try to achieve a clean inbox. Search queries can sort out what's there, and cleaning it out regularly takes more time than it's worth. As with organization, the key is for you to decide what works for you, then stick with it. 

Use Some Rules
A few basic email rules can save you much email frustration. 
The two-minute rule: if will take only a few minutes, respond to it right away. 
The email-time rule: designate a few times a day to handling email, and leave it alone the rest of the time. True emergencies will find you via other methods. People will learn what to expect if you are consistent. 
The informative-subject rule: make the most of the subject line, using it to ask the main question, designate a needed response, and otherwise make it easy for people to respond as quickly as possible.
Email isn't going away, but you don't have to lose your entire day to it. Remember it's a tool; how you use it is what makes it burdensome or effective.
Bitrix24 can be used as a Human Resources Information System (HRIS). Use promocode TIP10 when registering your free Bitrix24 account to get extra 10GB. 
See also:
Free Business Process Automation Software
Free Cloud Workflow Software
Free Leave Request Software
Free Video Conferencing Software
Free Video Chat Software
Free business messaging software
Free business chat software
Free group messaging service
PickyDomains - World's first risk free naming service 

Lori Kleiman is a Chicago based business expert and author with more than 25 years of experience advising companies on HR issues. Lori has a master's degree in human resources, has been certified as Senior Professional in Human Resources (SPHR) by the HR Certification Institute and is a member of the National Speakers Association. 




Telecommuting and remote work remains a hotly debated topic with high profile supported and defectors alike. How do you personally see this trend develop? Have we hit peak 'Äėtelecommuting'Äô or will the remote workforce keep growing significantly for the foreseeable future?¬†

LK: I believe that flexible work schedules are essential, but full scale telecommuting can be difficult to maintain. There is no doubt that there is a loss of camaraderie and teamwork with workforces that do not interact on a regular basis. I recommend organizations use telecommuting for those that have earned the trust on an occasional basis as employee needs warrant. 

Do you have a simple rule of thumb that determines when telecommuting is a good idea and when it's likely to negatively affect the company? 

LK: Telecommuting can be used in situations where a top performer is called out of town due to family obligations and the talent would be difficult to replace. There are also many cases where clients are located globally, and a robust telecommuting program would allow staff to be located closer to the clients. I find the best solution is a flexible schedule that would require all employees to be in the office during core work hours, but allowed to tele-commute or flex office hours as needed. 

What are some legal or regulatory aspects of telecommuting that employers tend to overlook when first letting their employees work from home? 

LK: The first issue is with hourly employees. Because it is difficult to track when they are actually working, there could be issues with wage and hour if they claim to have worked longer at home then they are being paid for. We are starting to see some issue with workers compensation when employees work from home. There have actually be cases reported of employees on exercise equipment during a meeting or looking at email, getting hurt and having it approved for a work comp claim. 

Recruiting is a key HR aspect for many companies. What recruiting mistakes do you see companies make most often and what are some simple/inexpensive tactics that work best for attracting top talent? 

LK: In terms of mistakes made most often, it would be overselling a job or work environment that is not realistic. Paint the picture with candidates of what your organization is really like, and you will attract the top talent for your organization. Two simple recuruitng tactics I like are utilizing my social media network to advise of the opening, and having a robust employee referral program to get their best and brightest contacts 

Can you recommend a few HR resources (blogs, books, podcast, etc.) to our readers? 

LK: Of course mine! hrtopics.com and my new book is coming out mid-June….Taking a SEAT at the table; being a Strategic Executive who is Action oriented and Technologically savvy. Others that I like to watch especially is the work coming out of the University of Michigan by David Ulrich's team. I also am fascinated with the Harvard Business Review - it's much more approachable then I ever thought and they consistently feature HR topics. Final resource I love - Executive Book Summaries - there are a few companies now that do them but its a great way to stay on top of what leadership is working on. 

Thank you for the interview. 


Bitrix24 can be used as a Human Resources Information System (HRIS). Use promocode TIP10 when registering your free Bitrix24 account to get extra 10GB. 

See also: 

Free 3CLogic alternative
Free Avoxi alternative
Free Five9 alternative
Free Fonality alternative
Free Genesys alternative
Free Nextiva alternative
Free VanillaSoft alternative
Free Vocalcom alternative
PickyDomains - World's first risk free naming service 

Coming up with great ideas seems like an easy task, until you sit down and stare at the blank screen. Set up your own inspiration system so you have a deep pool of ideas to draw from, anytime you need them. 




Identify Your Inspiration Sources 
They might not be what you think they are. 

Spend a week or two noticing when you get ideas. When does inspiration strike? Backtrack from that moment until you find the ignition for the spark. 

Look at your input: what were you reading, watching, talking about, hearing, experiencing? 

Look for patterns. Certain people, places, environments, media, authors, activities. Your pattern of inspiration sources will be as unique as your fingerprint. There's no right or wrong here; it's just what sparks against the embers in your brain and lights up that little fire of an idea. 

Make a list. Once you've observed yourself for a week or two, you will see some repetition. Some patterns. You'll miss some sources, of course, but this isn't a once-and-done process. 

Make Collection Easy 
There are two components to regular, dependable idea collection: the capture method(s) and the storage. 

The Storage Bucket 


You need one central digital bucket. It's a common pitfall to spend time comparing features instead of putting something in place and using it. Don'Äôt get lost in details or organizational options. You don't have to sort ideas into particular categories or hierarchies. Digital storage provides the power of digital search; keywords in your ideas let find things topically whenever you want.¬†


Capture Methods 

If you capture ideas on paper (which is great), transfer those to your digital bucket regularly. A weekly practice is often enough to keep the transfer from becoming burdensome. Set up as many methods as you have used or think you will use: voice recording, note-taking on mobile devices, video, photo, bookmarking, downloading files, saving links, etc. Link those capture methods to your central bucket. (Automation tools such as IFTTT and Zapier help with this part of the process.)
Let Your Brain Percolate 
Your brain needs idle time. In-between time. Percolation time. The time when you used to feel a little bit bored, or zoned out. Now you spend it staring at your phone.
Reclaim your percolation time: when you walk, when you exercise, when you're driving, in the shower (one of the last reserves of digital-free thinking time). Your brain needs time to wander through the fields of information and ideas, to make connections, to remember, to create.
Schedule Idea Sessions 
Regular idea sessions can take two different forms.
The first is for idea generation. In this session you'll purposely pull out your inspiration sources and start combing through them for inspiration. It'Äôs a lot like those brainstorming sessions you know from high school.
The second kind of idea session is for saturation. The purpose is to immerse yourself in your collected ideas, not analyzing or "doing" anything with them, just sorting, looking, reminding, connecting.
Schedule idea sessions. Weekly or monthly or quarterly, they keep you moving forward. From either type of session, you should walk away with a list of ideas for development, either generated in the session or culled from the saturation. And you'll be leaving plenty of ideas behind, in storage, waiting for the next time you visit.
Bitrix24 gives you free real time communication tools. Use promocode TIP10 when registering your free Bitrix24 account to get extra 10GB. 
See also:
Free 8X8 alternative
Free eZuce alternative
Free Ringio alternative
Free SIPfoundry alternative
Free SwitchVox alternative
Free TalkRoute alternative
Free Zoiper alternative
Free Video Conferencing Software
Free Video Chat Software